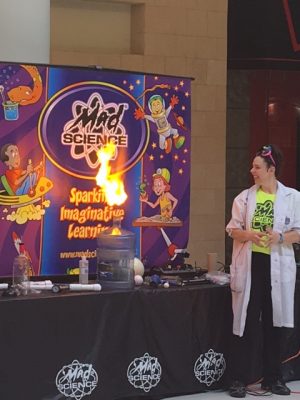 Tykes Tuesdays, formerly Kids Club, is the Galleria at Crystal Run's, free annual summer kids' program for children age 1-10 years old. The Galleria at Crystal Run will host child friendly activities every Tuesday Beginning June 25th through August 20th, from 1-2pm.
Below is a complete list of The Galleria at Crystal Run's Tykes Tuesday events. Unless otherwise indicated, all events will be held in the Galleria's Center Court.
June 25, 2019: Decorate your own Cupcake (in front of Urban
Air)
July 2, 2019: Hudson Valley Renegades Visit from Rascal and ticket give away
July 9, 2019: Jungle Dave Magic Show
July 16, 2019: Rockness Music, play instruments and sing along
July 23, 2019: Decorate your own ice cream sundae (in front of the Urban Air barricade)
July 30, 2019: Mad Science of the Hudson Valley Fire and Ice Show
August 8, 2019: Build-A-Bear build your own bear party-Registration Required *registration link to be                           posted to the Tykes Tuesday event page on Facebook. (in Build-A-Bear)
August 23, 2019: Charlini the Magician
August 20, 2019: Decorate your own donut from Dunkin Donuts (in
front of the Urban Air barricade)
Tykes Tuesday will bring the same great fun of years past but, with a little extra for the family to enjoy. The Galleria at Crystal Run has coordinated with various merchants to provide exclusive discounts to that day's Tykes Tuesday attendants. Cards with details on participating merchants and the discounts they will be offering will be handed out at the weekly Tykes Tuesday event.
About the Galleria at Crystal Run
The Galleria at Crystal Run is the Hudson Valley's premier shopping center and a community resource for all the tristate area. For more information on the Galleria's retail, dining and entertainment opportunities, visit www.galleriacrystalrun.com.
About Pyramid Management Group, LLC
Pyramid Management Group, owner of the Galleria at Crystal Run, is one of the largest, most innovative, privately-held shopping center developers in the northeast. Headquartered in Syracuse, New York, Pyramid's portfolio of retail-based, tourist and entertainment destinations dominate the northeast with 18 properties located throughout New York, Massachusetts and Virginia. For over 40 years, Pyramid has led the industry in combining the best elements of traditional retail with world-class dining, entertainment and hospitality, all under one roof. For more information, visit www.pyramidmg.com.