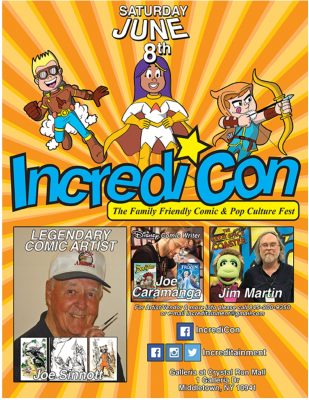 Look, up in the Galleria! It's a store! It's a restaurant! No, it's Incedicon!
Yes, it's Incredicon – a Mid-Hudson Valley comic convention, featuring respected illustrators, animators, writers, and voice actors that have created and contributed to the comics, cartoons, and shows you and your children love!
Organized by local educator Michael Lopez, Incredicon will be held on the lower level of the Galleria at Crystal Run's Center Court, Saturday, June 8 from 10:00am to 5:00pm. Among the exhibitors will be comic artist Joe Sinnot, Disney comic writer Joe Carmanga, and puppeteer Jim Martin of Sesame Street and The Great Space Coaster. And of course, the Galleria's own Money G Cards & Collectibles will be in attendance!
This family-friendly event is free to all ages, so put on your best cosplay, and join us for a day filled with artists, comics, and collectibles.
About the Galleria at Crystal Run
The Galleria at Crystal Run is the Hudson Valley's premier shopping center and a community resource for all the tristate area. For more information on the Galleria's retail, dining and entertainment opportunities, visit www.galleriacrystalrun.com.
About Pyramid Management Group, LLC
Pyramid Management Group, owner of the Galleria at Crystal Run, is one of the largest, most innovative, privately-held shopping center developers in the northeast. Headquartered in Syracuse, New York, Pyramid's portfolio of retail-based, tourist and entertainment destinations dominate the northeast with 18 properties located throughout New York, Massachusetts and Virginia. For over 40 years, Pyramid has led the industry in combining the best elements of traditional retail with world-class dining, entertainment and hospitality, all under one roof. For more information, visit www.pyramidmg.com.