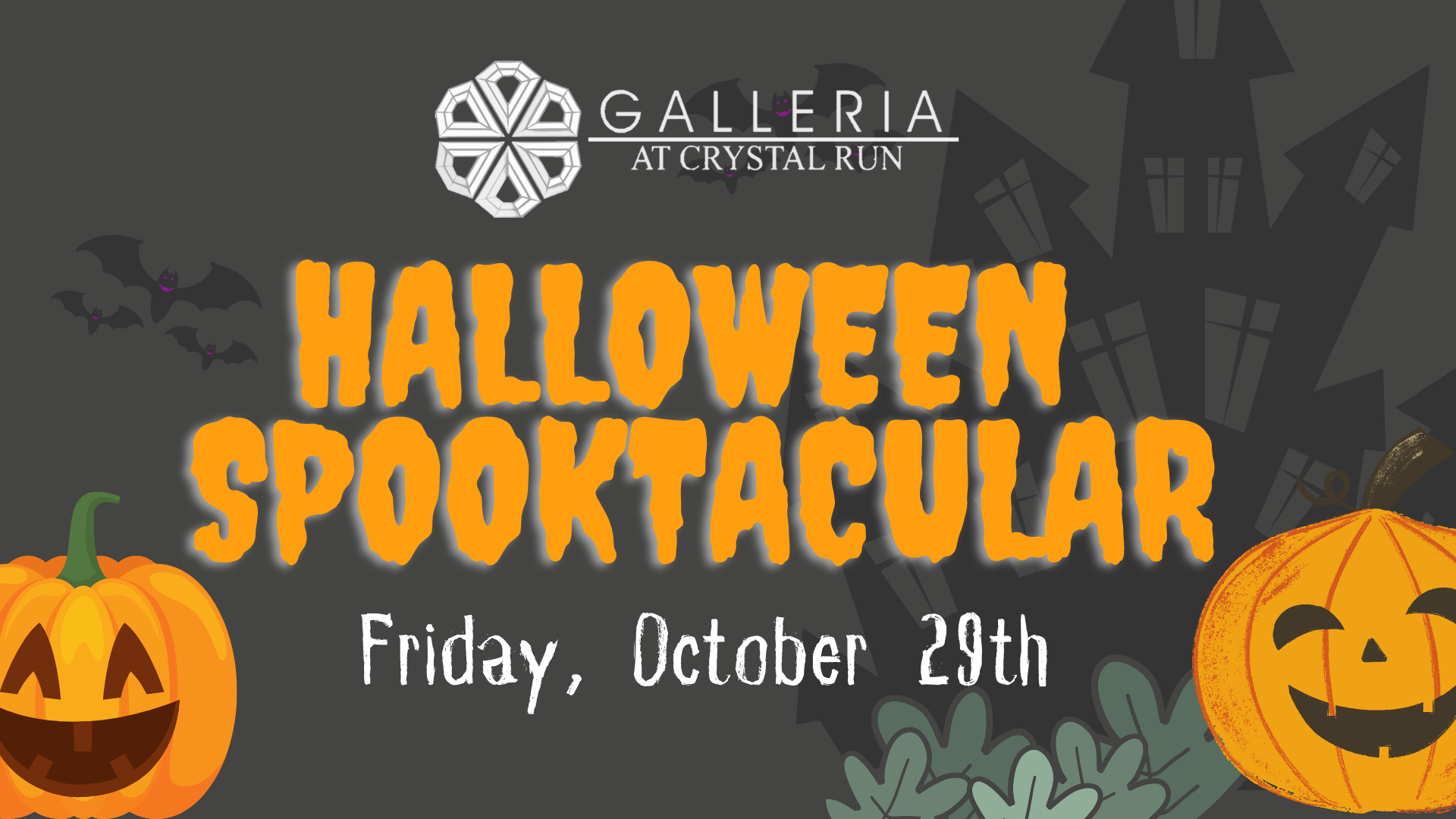 Middletown, NY: It's time to get SPOOKY with the Galleria at Crystal Run. Dress the kids up in their best Halloween costumes and join the fun on Friday, October 29th from 5 p.m.- 8 p.m. for the Halloween Spooktakular Event sponsored by Gold's Gym and Urban Air. Pre-registration is required for this event and will be limited to the first 300 children.
Each registered guest will receive a bag of candy, and a "map" of Halloween activity stations happening though out the center.
Activities include a haunted house, free photo booths, Trunk or Treat by the Pakanasink Elementary PTA, a kid's dance party, and candy and activities with The Orange County Sheriff's Department, Town of Wallkill Girl Scouts, and the YMCA of Orange County.
The health and safety of our guests is our top priority. Everyone attending is encouraged to wear a face mask or covering. To register for this event and for more information, visit www.galleriacrystalrun.com/events. Happy Halloween from the Galleria at Crystal Run!
###
URBAN AIR ADVENTURE PARK
Urban Air is the Nation's #1 destination for family fun featuring a variety of attractions perfect for all ages. Urban Air Adventure Park is the perfect venue for kids' birthday parties, church events, corporate gatherings or a day out for some family fun. For more information on the company and franchising opportunities please visit www.UrbanAirCrystalRun.com
ABOUT GALLERIA AT CRYSTAL RUN
The Galleria at Crystal Run is the Hudson Valley's premier shopping, dining and entertainment center and a community resource for all the tristate area. The center is anchored by Target, Macy's, Dick's Sporting Goods and JC Penney, while offering more than 100 retail shops. The Galleria at Crystal Run offers 6 entertainment venues and 10 onsite eateries, such as AMC Theatres, Billy Beez, The Mystery Room, Urban Air Adventure Park, Ride & Thrill, Round 1 Bowling & Amusement, 110 Grill, Fuji Japanese Steakhouse, Peru Cuisine, and the new Allan's Mediterranean Bar & Grill. The Galleria at Crystal Run is your destination to EAT. SHOP. PLAY. Additional information regarding the Galleria at Crystal Run can be found by visiting, www.galleriacrystalrun.com.
ABOUT PYRAMID MANAGEMENT GROUP
Pyramid Management Group, owner of Crossgates, is one of the largest, most innovative, privately-held real estate developers in the northeast. Headquartered in Syracuse, New York, Pyramid's portfolio of dynamic shopping, dining and entertainment destinations and expanding hospitality presence dominate the northeast with 16 properties located throughout New York and Massachusetts. For nearly 50 years, Pyramid has built its reputation on being first, fast, ahead of the curve and always what's next, leading the industry in combining the best elements of traditional retail with world-class dining and entertainment, all under one roof. For more information, visit www.pyramidmg.com.