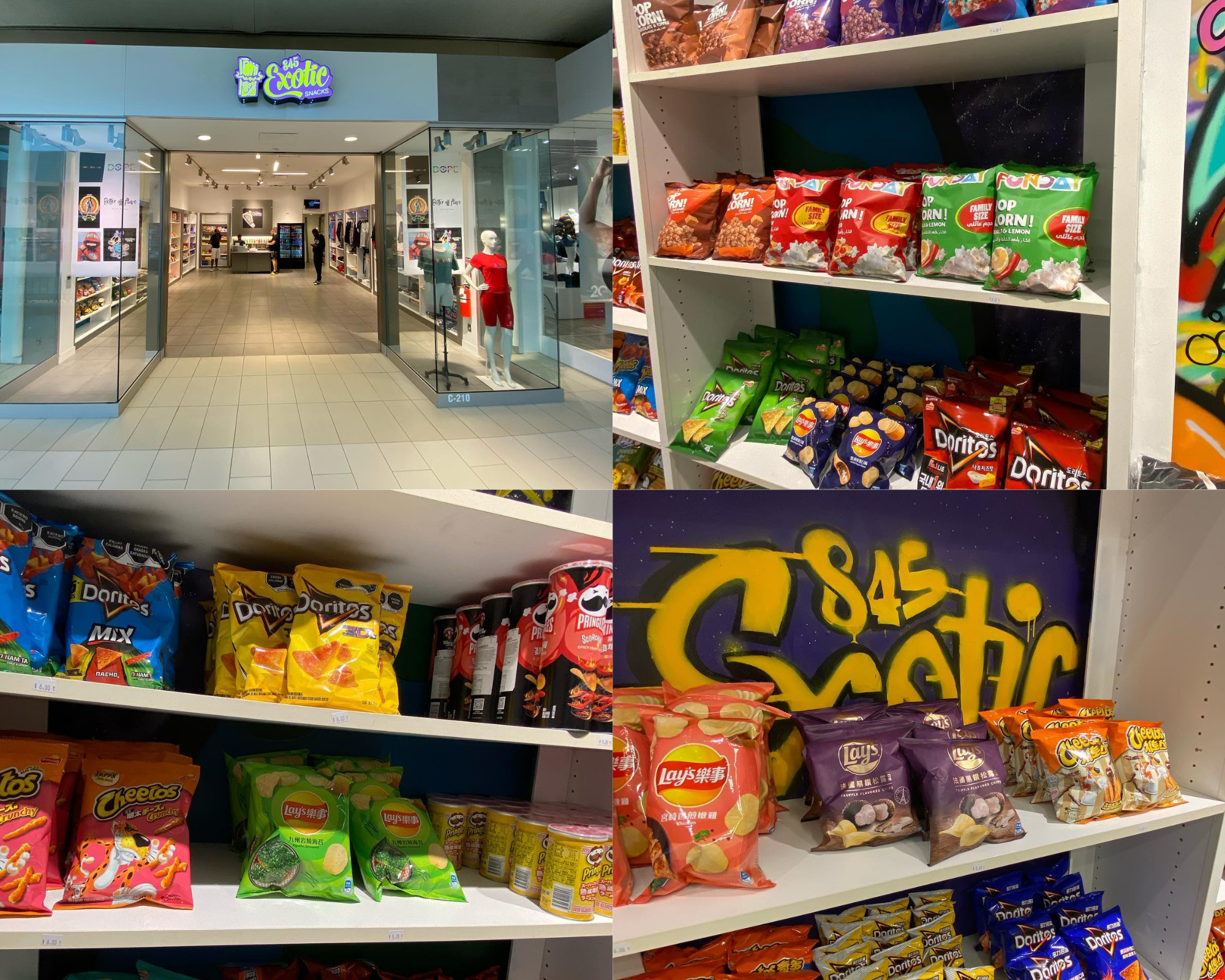 Middletown, NY: The Galleria at Crystal Run is excited to announce the newest addition to the center, 845 Exotic Snacks. The locally owned snack shop is now located on the upper level, across from the food court.
Owner, Joshua Morales began his journey with 845 Exotic Snacks in October of 2019 in Ellenville, NY. 845 Exotic Snacks is a novelty snack shop that offers unique international candy, chips, cookies, and sodas from around the world. The store carries items that cannot be found in a typical snack store. Morales has also partnered with three local artists and carries their custom-made apparel.
"After a trip to California a few years ago, I was inspired to bring a taste of what I experienced here to the Hudson Valley," said
Joshua Morales, owner of 845 Exotic Snacks. "I started this business with only a vision, opened the store in Ellenville and now am so excited to be expanding to the Galleria at Crystal Run."
"We're very excited to bring our customers this unique snack shop, and to also welcome another family-owned business to our center," said Galleria at Crystal Run's General Manager, Eric Price. "Our guests have expressed their excitement over the new 845 Exotic Snacks, they are a great addition to the Galleria at Crystal Run family."
A Ribbon Cutting Ceremony will be held for 845 Exotic Snacks on Friday, June 18th at 4:30 p.m.
For more information on weekly deals and happenings, visit www.galleriacrystalrun.com.
###
About Galleria at Crystal Run
The Galleria at Crystal Run is the Hudson Valley's premier shopping, dining and entertainment center and a community resource for all the tristate area. The center is anchored by Target, Macy's, Dick's Sporting Goods and JC Penney, while offering more than 100 retail shops. The Galleria at Crystal Run offers 6 entertainment venues and 10 onsite eateries, such as AMC Theatres, Billy Beez, The Mystery Room, Urban Air Adventure Park, Ride & Thrill, Round 1 Bowling & Amusement, 110 Grill, Fuji Japanese Steakhouse, Peru Cuisine, and the new Allan's Mediterranean Bar & Grill. The Galleria at Crystal Run is your destination to EAT. SHOP. PLAY. Additional information regarding the Galleria at Crystal Run can be found by visiting, www.galleriacrystalrun.com.
About Pyramid Management Group, LLC
Pyramid Management Group is one of the largest, most innovative, privately held real estate developers in the northeast. Headquartered in Syracuse, New York, Pyramid's portfolio of dynamic shopping, dining and entertainment destinations and expanding hospitality presence dominate the northeast with 14 properties located throughout New York and Massachusetts. For 50 years, Pyramid has built its reputation on being first, fast, ahead of the curve and always what's next, leading the industry in combining the best elements of traditional retail with world-class dining and entertainment, all under one roof. For more information, visit www.pyramidmg.com.