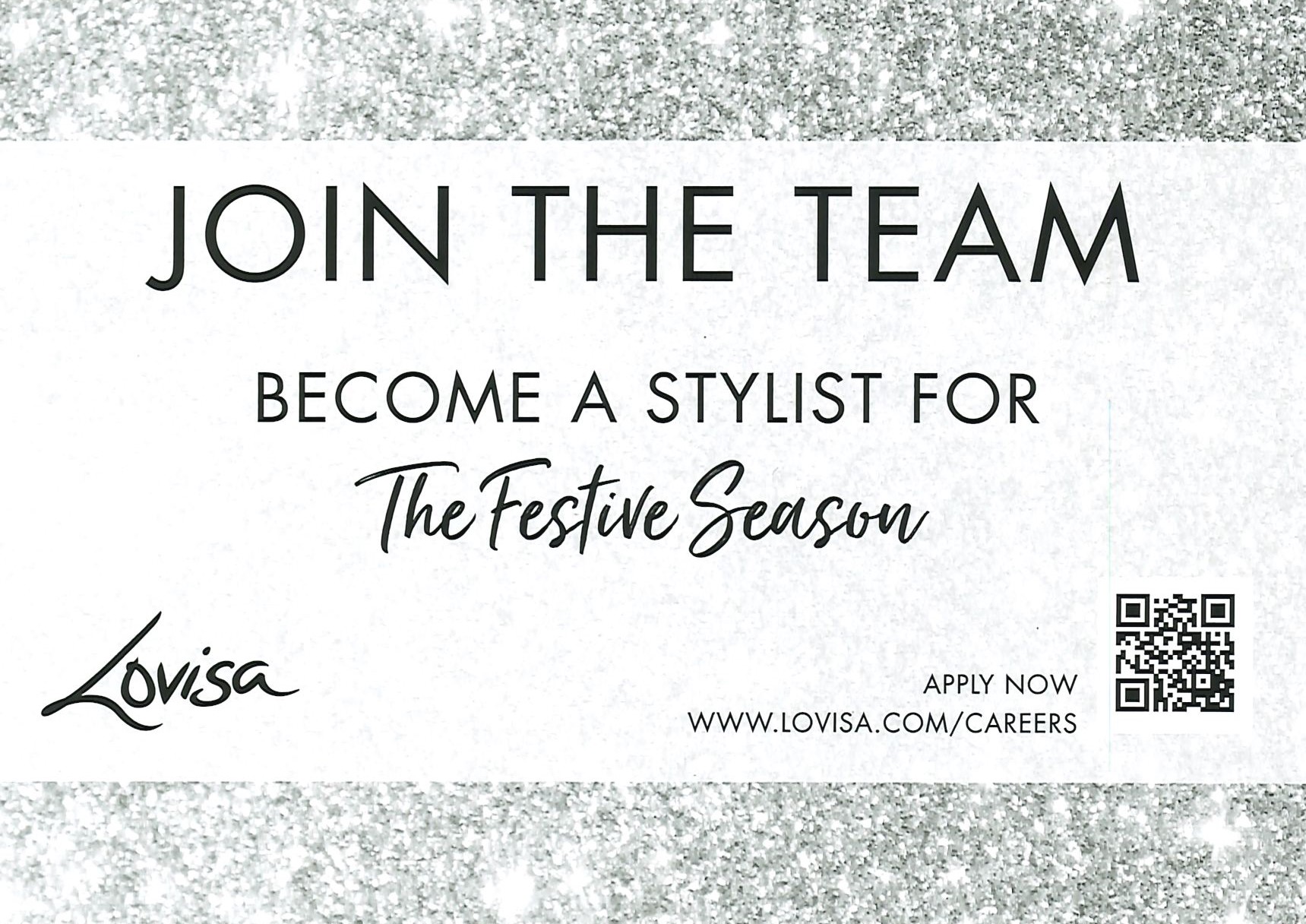 Location: 53412 Mall at Crystal Run
Posted on: 20 September 2022
Are you ready to join an exciting Lovisa 2022 Holiday Season!?
To be considered, you will need to be available throughout November, December, and early January, Including Black Friday, Christmas Eve and Boxing Day.
Do you love working in a team environment that will kick start your fashion retail career?
Are you motivated and driven to deliver great results?
Do you want to influence and inspire customers with your knowledge of fashion and current trends?
Are you a great communicator and confident in building great relationships?
Video Application:
*Due to the overwhelming number of applications we receive, only applications that contain a 1 minute video will be considered*
To assist us in getting to know you better, we ask that you upload a 1 minute video of yourself answering the below questions.
Video Questions:
What excites you about joining Lovisa?
What does the phrase 'It's about the customer, always' mean to you?
NOTE: Please make sure you dress to impress in your video, as though you are going to an interview!
We look forward to seeing your video!
Lovisa Benefits:
Generous discount on Lovisa product!
New Starter Lovisa Gift Voucher (once training is completed).
The possibility to be offered a permanent position after the Christmas period.
Incentives Galore.
Further development in your style skills.
Skills for a Holiday Team Member:
Have a passion for providing amazing customer service.
Confidence to style your customer.
Be able to perform in a fast-paced, high volume retail environment.
Love to work within a team to deliver great results.
Have a love for fashion!
Lovisa Life:
Lovisa was created out of a need for current fashion jewellery at an affordable price point. The keen-eyed design team at Lovisa uses a wide range of materials and expert finishing techniques to delivery fashion forward designer jewellery and hair accessories. Lovisa is a first stop shop for the fashion forward person to get their on-trend accessories. The Lovisa customer has refined taste and understands the importance of the perfect accessory. They want designer style at ready-to-wear prices and that is what we deliver.
Lovisa was established in April 2010 and has quickly grown to be one of Australia's leading fast fashion jewellery retailers. It has over 600 stores across more than 20 countries.
Here at Lovisa, we are passionate, dedicated, hard-working and fun-loving team players. We are devoted to fashion, style and customer service. All team members are Lovisa ambassadors, who thrive off our Lovisa culture commitments with a can-do attitude.
We believe in supporting diverse cultures and harnessing the unique knowledge and experience of our team. We celebrate our global presence, by supporting our culturally diverse team around the world.
#LI-DNI