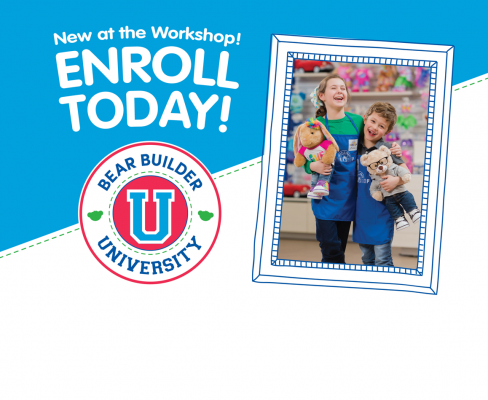 Learn What it's Like to Bring a Furry Friend to Life as a Build-A-Bear Bear Builder!
Class is in Session, September 21st at 10am and September 28th at 10am
Packages Include:
• 1 Furry Friend up to $22
• 1 Clothing Item
• Kid-Sized Apron
• A Diploma
• 1 Sound or Scent
• Dedicated PAWfessor
Bear Builder University at Build-A-Bear Workshop is a hands-on, one-of-a-kind experience that lets kids be professional Bear Builders! Bring your aspiring Bear Builders to the Workshop for a fun-filled class of learning new things, working together, and (of course) making furry friends! For just $35 per Guest, you'll get to suit up in your own bear builder apron and Build-A-Bear name tag before learning the exciting process of choosing furry friends, creating a Heart Ceremony, and bringing friends to life at the Stuffer. Only with this exciting themed Build-A-Bear package can kids experience firsthand what it's like being a Bear Builder! Save the date and join us for an interactive event of fun with Bear Builder University at Build-A-Bear Workshop!
Call Today to Reserve Your Spot at 845.673.8062!
Class sizes are limited. Parental
supervision required.
(While supplies last. Outfits and accessories sold separately. See an associate for details.)