Mall Directory
| Name | Category | Phone | Map Location |
| --- | --- | --- | --- |
| Aeropostale | Women's Apparel | 845.692.0441 | A2 |
| Against All Odds | Men's Apparel, Women's Apparel | 845.692.5292 | D1 |
| Against All Odds | Men's Apparel | 845.692.5292 | D1 |
| Against All Odds | Women's Apparel | 845.692.5292 | D1 |
| Aldo | Shoes | 845.692.8778 | C2 |
| AMC Theatre Office | Anchors | 845.695.1724 | A0 |
| AMC Theatres | Anchors, Major Retailers | 845.695.1724 | A0 |
| AMC Theatres | Anchors | 845.695.1724 | A0 |
| AMC Theatres | Major Retailers | 845.695.1724 | A0 |
| American Eagle | Men's Apparel, Women's Apparel | 845.692.8181 | E2 |
| American Eagle | Men's Apparel | 845.692.8181 | E2 |
| American Eagle | Women's Apparel | 845.692.8181 | E2 |
| AT&T | Electronics & Music | 845.692.4660 | C1 |
| ATM- AMC Entrance | Banking & Currency | N/A | E1 |
| ATM- Center Court | Banking & Currency | N/A | F1 |
| ATM- Dick's Sporting Goods Court | Banking & Currency | N/A | C1 |
| ATM- Food Court | Banking & Currency | N/A | D2 |
| Baskin Robbins | Food Specialties | 845.692.0848 | E1 |
| Bath & Body Works | Health & Beauty | 845.692.5852 | E2 |
| Beauty Plus Salon | Health & Beauty | 845.692.6799 | C1 |
| Best Buy Mobile | Electronics & Music | 845.692.0101 | B1 |
| Billy Beez - Now Open! | Entertainment | 845.673.3352 | C2 |
| Bouton's Hallmark | Books, Cards & Gifts | 845.692.2333 | B2 |
| Build A Bear Workshop | Specialty Retail | 845.695.1777 | D2 |
| C&C Unisex | Health & Beauty | 845.692.6788 | D1 |
| Candy Land | Food Specialties, Specialty Retail | 845.695.0674 | E1 |
| Candy Land | Food Specialties | 845.695.0674 | E1 |
| Candy Land | Specialty Retail | 845.695.0674 | E1 |
| Cell Ace | Electronics & Music | 845.652.0854 | E1 |
| Champs | Shoes | 845.692.6707 | C1 |
| Charley's Subs - Coming Soon! | Food Court | (845) 692-8883 | D2 |
| Claire's Boutique | Jewelry & Accessories | 845.692.0444 | E2 |
| Cohens Fashion Optical | Optical & Professional Services | 845.692.5800 | F1 |
| Community Room | Food Court | 845.692.5757 | Back of D2 |
| Cotton On | Men's Apparel, Women's Apparel | 845-695-1781 | E2 |
| Cotton On | Men's Apparel | 845-695-1781 | E2 |
| Cotton On | Women's Apparel | 845-695-1781 | E2 |
| Crazy 8 | Children's Apparel | 845.692.8306 | C2 |
| Crossroads Furniture & Gifts | Home | 845.692.0992 | E1 |
| Custom T's | Men's Apparel, Specialty Retail, Women's Apparel | 845.692.9248 | F1 |
| Custom T's | Men's Apparel | 845.692.9248 | F1 |
| Custom T's | Specialty Retail | 845.692.9248 | F1 |
| Custom T's | Women's Apparel | 845.692.9248 | F1 |
| Customer Service | Services | 845.692.8883 | A2 |
| Cyber Station | Electronics & Music, Toys | 845.695.2228 | D2 |
| Cyber Station | Electronics & Music | 845.695.2228 | D2 |
| Cyber Station | Toys | 845.695.2228 | D2 |
| Dick's Sporting Goods | Major Retailers | 845.692.5035 | Anchor |
| DSW | Shoes | 845.692.8020 | G1 |
| Dunkin Donuts | Food Specialties | 845.692.0848 | E1 |
| Express | Women's Apparel | 845.692.0496 | A2 |
| Eye to Eye Vision Center | Optical & Professional Services | 845.692.2020 | D1 |
| Finish Line | Shoes | 845.692.0813 | A1 |
| Flormar | Health & Beauty | (845) 648-3073 | C1 |
| Forever 21 | Men's Apparel, Women's Apparel | 845.692.4990 | A2 |
| Forever 21 | Men's Apparel | 845.692.4990 | A2 |
| Forever 21 | Women's Apparel | 845.692.4990 | A2 |
| Francesca's - Now Open! | Women's Apparel | 845.692.8883 | C2 |
| Fuji Japanese Steakhouse | Dining, Food - Restaurants | 845.692.8881 | F2 |
| Fuji Japanese Steakhouse | Dining | 845.692.8881 | F2 |
| Fuji Japanese Steakhouse | Food - Restaurants | 845.692.8881 | F2 |
| Galleria Gold Buyers | Jewelry & Accessories | 845.820.6643 | D2 |
| Galleria Mall Dental | Specialty Retail | 845.692.9212 | F2 |
| Galleria Mart | Specialty Retail | 845.692.9912 | E1 |
| GameStop | Electronics & Music | 845.695.1332 | D2 |
| Gertrude Hawk | Food Specialties | 845.695.2236 | C2 |
| GNC | Food Specialties, Health & Beauty | 845.692.6602 | B1 |
| GNC | Food Specialties | 845.692.6602 | B1 |
| GNC | Health & Beauty | 845.692.6602 | B1 |
| H&M | Major Retailers | (855) 466-7467 | G1/F2 |
| Hannoush Jewelers | Jewelry & Accessories | 845.692.3466 | F2 |
| Hollister | Women's Apparel | 845.692.6311 | A2 |
| Hot Topic | Specialty Retail, Women's Apparel | 845.692.5777 | B1 |
| Hot Topic | Specialty Retail | 845.692.5777 | B1 |
| Hot Topic | Women's Apparel | 845.692.5777 | B1 |
| ILY | Specialty Retail | 692.4459 | E2 |
| JCPenney | Anchors | 845.692.4700 | Anchor |
| JCPenney Hair Salon | Anchors | 845.692.2777 | Anchor |
| JCPenney Portrait Studio | Anchors | 845.692.5995 | Anchor |
| Jimmy Jazz | Shoes | (845) 692-8883 | F1 |
| Johnny Rockets | Dining, Food - Restaurants | 845.692.7004 | E1 |
| Johnny Rockets | Dining | 845.692.7004 | E1 |
| Johnny Rockets | Food - Restaurants | 845.692.7004 | E1 |
| Journeys | Shoes | 845.692.5725 | E2 |
| Justice | Children's Apparel | 845.692.5947 | A1 |
| Kay Jewelers | | 845.692.2220 | D2 |
| Kids Foot Locker | Shoes | 845.692.6810 | E1 |
| Kids for Less | Children's Apparel | 845.692.6226 | A1 |
| Lane Bryant | Women's Apparel | 845.695.2289 | A2 |
| Lenscrafters | Optical & Professional Services | 845.692.0504 | B2 |
| Lids | Specialty Retail | 845.692.2914 | D2 |
| LOFT - Now Open! | | 845.692.8943 | B2 |
| Macy's | Anchors | 845.695.1001 | Anchor |
| Mall Office | Services | 845.692.5757 | D2 |
| Master Wok | Dining, Food Court | 845.695.2922 | D2 |
| Master Wok | Dining | 845.695.2922 | D2 |
| Master Wok | Food Court | 845.695.2922 | D2 |
| Motherhood Maternity | Specialty Retail, Women's Apparel | 845.692.2136 | E1 |
| Motherhood Maternity | Specialty Retail | 845.692.2136 | E1 |
| Motherhood Maternity | Women's Apparel | 845.692.2136 | E1 |
| Mr. Smoothie | Food Specialties | 845.692.6685 | E1 |
| Nail Pro | Health & Beauty | 845.692.4669 | C2 |
| Nails & Spa | Health & Beauty | 845.692.2201 | F2 |
| Nathan's Famous | Dining, Food Court | 914.902.5996 | D2 |
| Nathan's Famous | Dining | 914.902.5996 | D2 |
| Nathan's Famous | Food Court | 914.902.5996 | D2 |
| Nesberry's - Now Open! | Food Specialties | (845) 692-8883 | G1 |
| New York & Company | Jewelry & Accessories, Women's Apparel | 845.692.8884 | G1 |
| New York & Company | Jewelry & Accessories | 845.692.8884 | G1 |
| New York & Company | Women's Apparel | 845.692.8884 | G1 |
| Pacific Sunwear | Men's Apparel, Women's Apparel | 845.692.6332 | B2 |
| Pacific Sunwear | Men's Apparel | 845.692.6332 | B2 |
| Pacific Sunwear | Women's Apparel | 845.692.6332 | B2 |
| Pandora | Jewelry & Accessories | 845.695.2400 | E2 |
| Payless Shoe Source | Shoes | 845.692.2423 | D1 |
| Peru Cuisine | Food Court | 845.692.8883 | D2 |
| Phone Fix & Repair - Now Open! | | 000.000.0000 | C1 |
| Piercing Pagoda | Jewelry & Accessories | 845.692.0678 | Kiosk between B1 & F1 |
| Pretzel Maker | Food Specialties | 845.692.5983 | C1 |
| Pretzel Maker II | Food Specialties | 845.692.5983 | F2 |
| Q Collection | Jewelry & Accessories | 845.695.5335 | B2 |
| Restroom - Customer Service | Services | N/A | A2 |
| Restroom - Food Court | Services | N/A | D2 |
| Restrooms - Lower Level by Sears | Services | N/A | D1 |
| Ruby Tuesday | Dining, Food - Restaurants | 845.692.6801 | C2 |
| Ruby Tuesday | Dining | 845.692.6801 | C2 |
| Ruby Tuesday | Food - Restaurants | 845.692.6801 | C2 |
| Sears | Anchors, Major Retailers | 845.695.5000 | Anchor |
| Sears | Anchors | 845.695.5000 | Anchor |
| Sears | Major Retailers | 845.695.5000 | Anchor |
| Sears Optical | Anchors | 845.695.5083 | Anchor |
| Sears Tire & Auto Center | Anchors | 845.695.5008 | Anchor |
| Sephora Inside JC Penney | Health & Beauty | 845.692.4700 x390 | Upper Level (Women's Section) JC Penney |
| Shoe Dept. | Shoes | 845.692.6855 | E1 |
| Shoyu Japan | Dining, Food Court | 845.673.5481 | D2 |
| Shoyu Japan | Dining | 845.673.5481 | D2 |
| Shoyu Japan | Food Court | 845.673.5481 | D2 |
| Sicilian Delight Pizza | Food Court | 845.692.7272 | D2 |
| Silver & Gold Connection | Jewelry & Accessories | 845.695.2096 | Kiosk between E1 & D1 |
| Sleep Number | Home | (845) 673-6369 | B2 |
| Sossi Formals | Specialty Retail | 845.692.2522 | D2 |
| Spencer Gifts | Books, Cards & Gifts | 845.692.6833 | E1 |
| Subway | Dining, Food Court | 845.673.1515 | D2 |
| Subway | Dining | 845.673.1515 | D2 |
| Subway | Food Court | 845.673.1515 | D2 |
| Sweet Feelings Jewelers | Jewelry & Accessories | 845.695.1433 | F2 |
| Target | Anchors, Major Retailers | 845.692.3700 | Anchor |
| Target | Anchors | 845.692.3700 | Anchor |
| Target | Major Retailers | 845.692.3700 | Anchor |
| The Children's Place | Children's Apparel | 845.692.5830 | C2 |
| The Leather Store | Specialty Retail | 845.692.5301 | D2 |
| The Threading Place | Health & Beauty | 845.695.1174 | C1 & F2 |
| Things Remembered | Books, Cards & Gifts | 845.692.8388 | F1 |
| Torrid | Women's Apparel | (845) 693-8883 | C2 |
| Track 23 | | 845.695.5365 | A1 |
| Verizon Wireless | Electronics & Music | 845.695.1342 | F1 |
| Via Roma | Men's Apparel | 845.692.6191 | F1 |
| Victoria's Secret | Specialty Retail, Women's Apparel | 845.692.6667 | F2 |
| Victoria's Secret | Specialty Retail | 845.692.6667 | F2 |
| Victoria's Secret | Women's Apparel | 845.692.6667 | F2 |
| Victoria's Secret Beauty | Health & Beauty | 845.692.6667 | F2 |
| Vitamin World | Specialty Retail | 845.692.5532 | D2 |
| Wendy's | Dining, Food Court | 845.692.0475 | D2 |
| Wendy's | Dining | 845.692.0475 | D2 |
| Wendy's | Food Court | 845.692.0475 | D2 |
| Wet Seal | Shoes | 845.692.4044 | B1 |
| Yankee Candle | Books, Cards & Gifts | 845.695.2009 | A1 |
| Zales | Jewelry & Accessories | 845.692.8880 | E2 |
| Zumiez | Shoes | 845.692.6165 | D1 |
AMC Loews Metroplex 16
Phone: 845.695.1724
Check movie times & buy tickets
A 16 screen movie theater that offers Sony 4K digital 3D movies and much more! Introducing Sensory-Friendly Showings, Student Day and Senior Day! , Come try our Concession Freshen program that includes the BFY (Better for You) products and the MTOHF (Made to order Hot Food) Pizza ,Chix tenders, Mozzarella sticks and curly fries and don't forget coffee and Tazo tea's! AMC now has a Reward Program (AMC Stubs) where you can earn points just by going to the movies! See AMC movie theaters for details and learn how to join!
Billy Beez - NOW OPEN!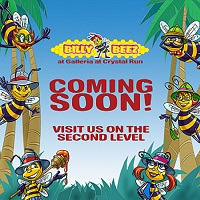 Ruby Tuesday
Phone: 845.692.6801
http://www.rubytuesday.com/menu 
Ruby Tuesday is driven by uncompromising freshness and quality, gracious hospitality and a growing list of Five-Star restaurants destined to be the envy of the casual dining business. At Ruby Tuesday, we're fully committed to preparing and serving food of uncompromising freshness and quality - with signature choices like our premium Handcrafted Burgers and our bountiful, Fresh Garden Bar - and we're grateful that our restaurants are made possible by passionate employees who make it their business to delight each and every guest with an excellent dining experience. From our ongoing efforts to bring you the best menu in casual dining and the best Handcrafted Burgers anywhere, to the gracious smiles and genuine hospitality that greet you at our doors, Ruby Tuesday wants to make our Simple Fresh American Dining your favorite dining anywhere.

Johnny Rockets
Phone: 845.692.7004
http://www.johnnyrockets.com/menu.html 
Johnny Rockets is an international restaurant chain that provides the food, fun and friendliness reminiscent of feel-good Americana. On June 6, 1986, the first Johnny Rockets opened on Melrose Avenue in Los Angeles, offering guests friendly service and great food in a fun and nostalgic atmosphere. Every original Johnny Rockets restaurant boasts great tasting food from a menu of favorites including juicy hamburgers, classic sandwiches, and hand-dipped shakes and malts. Guests also enjoy an all-American look and feel, tabletop jukeboxes and authentic decor.

Fuji Japanese Steakhouse
Phone: 845.692.8881
http://www.fujisteakhouseny.com/menu/ 
Our goal at Fuji is to make your dining experience as entertaining and relaxing as possible. Great for parties, large groups, meetings , or just in general a night out. We have a full bar for both alcohol and sushi, to ensure that you can have anything that you are craving. All our restaurants are built with unique in mind, so that each visit to one of our restaurants is different and special in its own way. If you need more information or if you would like to place a carryout order, why not check out our menu section or give us a call.
Food Court
Charley's - Coming Soon!
Sicilian Delight - Now Open!
Peru Cuisine - Now Open!
Wendy's
Shoyu Japan
Subway
Nathan's Famous
Master Wok